Who We Are
Roseland Produce is proudly Canadian!  We've been servicing the GTA and Golden Horseshoe, including the Niagara Peninsula area since 1984, two of the fastest growing areas in Ontario.
We've built strong relationships with growers/farmers and vendors within our 200 km delivery radius.  Supporting local is our passion, providing fresh, premium, local products is our job, and we do it well!   We are focused on first rate supply-chain management and reliability.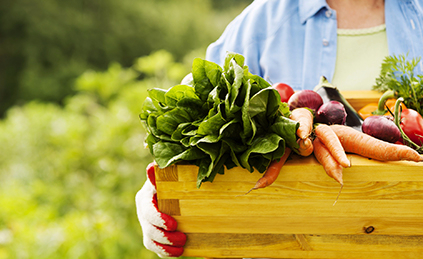 We understand the importance of fresh produce to your menu and work diligently to ensure you are able to satisfy your customers.  Our customers include Hotels, Restaurants,Golf Courses, Catering Services, Hospitals, Retirement/Long-Term Care and Retail/Market/Co-op locations. 
Our highly qualified team of 28 fresh produce experts work together to service your produce needs out of our 20,000 square foot custom designed, efficient facility in Burlington, Ontario.  Our uniquely designed facility includes 5 temperature controlled rooms, customized to the requirements of the products in each room.  Storing at the "right" temperature ensures the integrity of our products is maintained.  Our friendly, service-focused driving team is currently running 10 refrigerated, temperature-controlled, clean vehicles, delivering fresh produce 6 days per week.
Roseland has always had an excellent reputation for providing the highest Level of customer service and the best quality fruits and vegetables, all at a competitive price.

EXPERIENCE
Our experienced buyers work with over 21 local vendors/farmers, and more than 20 non-local vendors to source the best quality products to satisfy your produce requirements.  Roseland Produce has over 30 years' experience in supply chain management offering you buying power, consistent product, pricing and quality you need to make your business a success!

LOCAL PRODUCE
Being proudly Canadian, we boast about our focus on local!  We work with more than 21 vendors/farmers to supply you the freshest fruits and vegetables from many growing regions in Ontario.  We ensure our vendors match our food safety standards.